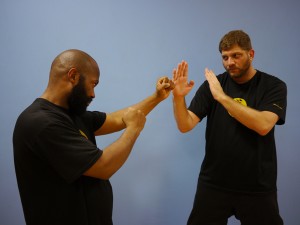 Response to Question: Where do you put your vision in a fight?
Last week on the WCO Facebook page I asked a question, "Where do you put your vision in a fight?"
I greatly appreciate everyone's response and feedback. There were a plethora of different responses to this one question. As long as you were not guessing, and understand your answer and have tested that it works for you, then you're correct! My goal is not to insult anyones answer I am simply explaining from my point of view.
It always baffles me when I ask this question to a martial artist and they look at me like they never heard this before. In fighting, the placement of your vision is of the utmost importance. If you understand where to focus, or, more specifically, where to un-focus, you have a much better chance of defending yourself against an attacker.
For those that said you don't need vision and work off of feel, that is great but contact has to be made first. It is also better that the contact is not someone's fist in your face. But, yes once contact is made you can work off of feel.
There is another type of feel and that is the ability to get in tune with your opponent and their energy. By doing this you can interpret your attackers intention and actions, although your vision has to be somewhere for this to happen. I will talk more about getting in tune with your opponent's energy at a later time.
When looking at:
Eyes… Most good fighters do not telegraph their movements with their eyes and they certainly don't attack with them.
Shoulders… there is something to be said for watching the shoulder as it moves slower than the fist so it definitely works as an early warning indicator, although it does not give any directional information and leaves out the legs.
Centerline… sounds like a guess. Sorry guys ☹ I just don't see how that would work against a kick.
Here is what I teach my students. Once again I am not saying this is the only answer, simply the one taught by many Wing Chun instructors and the one that best worked for me.
Wing Chun practitioners should look, but not stare. If you use your peripheral vision, you can detect movement more easily and will have a better chance of not getting "faked out" by your opponent. You can simply trust your peripheral vision better than staring at something.
A Wing Chun practitioner places his/her vision on the area around the elbows and knees of his/her opponent, depending on the range. If I am in my opponent's kicking range I focus more on elbow and knees, as the range shortens my focus can go more towards the elbow.
The purpose of watching the elbows and knees is that they work as an early warning indicator and also relay directional information.
They work as an early warning indicator because the elbow moves more slowly than the fist. In the period of time that a punch is thrown, the elbow moves a shorter distance than the fist in the same time frame; therefore the fist moves at a greater velocity than the elbow. The same applies to the knees and the feet.
The elbows and knees also provide directional information. If you see the elbow lift, a hook punch is most likely to follow. If you see an elbow pull back then possibly the other hand in on it's way.
Most individuals I show this two come back in awe saying I sparred guys that usually knock me around and had no problem defending myself with this simple little adjustment.
The key to martial arts is to understand the how and why it works then it can work for you!
Here is a simple way to test it for yourself…
Step 1: Get a partner and have them stand in front of you with their fastest hand up in the air. Tell them that you are going to tap them in the belly no harder than this… and give them a quick light tap. Your not trying to hurt them or hit them hard just a tap will do. Why not a punch? For now this is just a test and should be safe.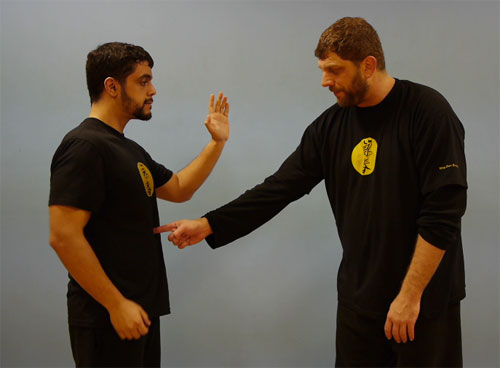 Step 2:  Now have your partner look at your eyes and throw a quick tap. They are going to try to pak, block, swat your hand. What I am getting at is your partner needs no fight or wing chun skills. You can do this with anyone. It is almost better to test his with someone who has had no training as it will be the most honest test.
Don't throw your strike full speed I want you to reserve a little. At half speed you should easily hit them every time without fail. Try it two or three times. In this image below my hand is already on the way back from the strike and his hand is just starting to move.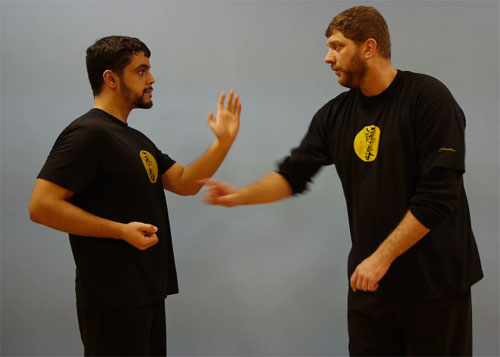 Step 3: Then repeat the same with your partners vision placement this time on your hand. The first time I tapped him in the gut the second time I showed him how simple it is to get faked out by watching my fist.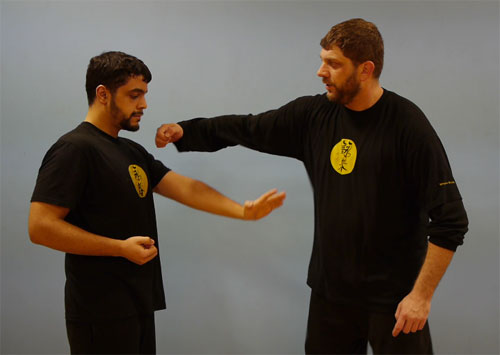 Step 4: Now have your partner look at your elbow. They should not stare at your elbow yet simply use their peripheral vision. Tell them as soon as they detect movement they should respond. As you can see below not only did he get it the first time, he got it every time. Do the first punch at the same speed as you did for the eyes and hand, then pick up the speed till you are at full speed. They should still be able to stop it!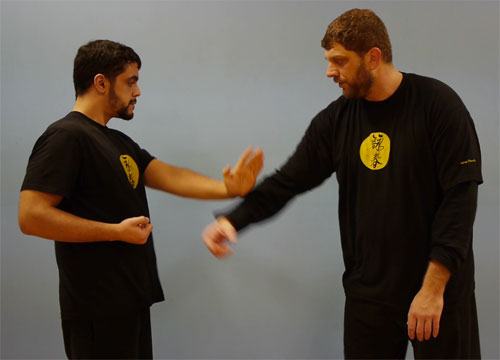 Then have them try it for you. You can try putting your vision where ever you like and see what works the best for you!
Try it out and let leave a comment below to tell us what worked the best for you.