Wing Chun practitioners punch with the bottom three knuckles. These three knuckles are most firmly supported by the wrist and forearm, giving maximum protection against wrist damage. Put your arm straight out and make a fist. Look at your fist and the alignment of your lower three knuckles and arm. The following photos illustrate the Wing Chun punch form.
The arrow shows the line from the forearm to the bottom three knuckles of the right fist. Note how your arm supports the bottom three knuckles.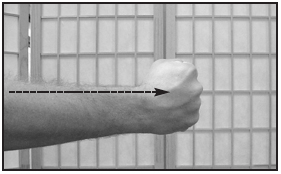 Contact from a side view shows the bottom three knuckles deep in the chest cavity.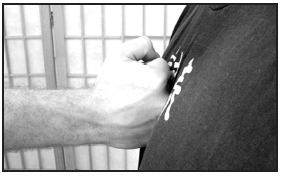 Contact from an angle. To generate maximum power, your punch must be perpendicular to the target.