Don Chi Sao is a training exercise that develops your sensitivity to touch and your contact reflex. It is an early stage training exercise taught in the stages of Chi Sao development. This exercise is not about power or strength it is about structure. With proper structure one can deflect the attack without force. If this exercise was meant to be forceless then footwork would be applied. There is a time for full force training and a time for developing and understanding structure so you fully comprehend how it will work for you.
Starting Point
One person is in tao sao (left). The other person has a fook sao. The two hands share the center with a light contact point. The fook sao hand should not rest heavily on the tan sao hand.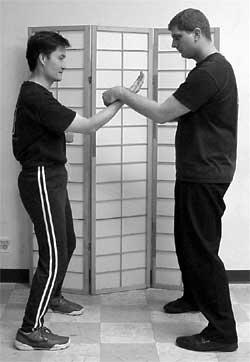 Step One
The tan sao hand (left), moves into a palm strike towards the chest of partner. At the moment the person on the right feels the strike coming they move thier fook sao hand into a jut sao.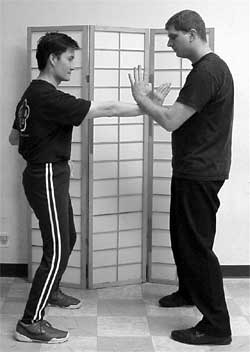 Step Two
At this point the jut sao hand (right) moves into a punch toward the upper zone of partner. To deflect the punch the partner (left) move his palm strike into a bong sao.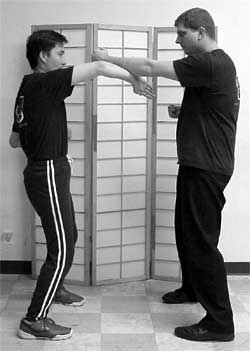 Step Three
Both partners return to starting point and repeat the exercise. At some point partners should switch hand positions and in addition practice these exercise on both sides. This exercise trains contact reflex, it is not a battle set. One should easily be able to perform with the eyes closed. Partners should keep contact throughout the exercise.