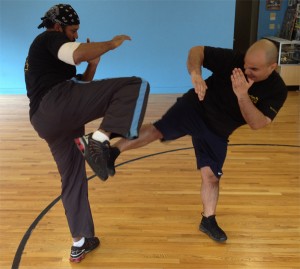 I have been training Wing Chun and teaching for numerous years and I often hear this… "I heard Wing Chun guys don't kick". I always get a smile when I hear that. I have also heard after sparring other martial artist from different styles, "I thought Wing Chun guys don't kick, you kicked the crap out of me".  Basically practitioners got the reputation of not being kickers simple because we do not use fancy kicks. We use effective kicks. Now don't get me wrong any good kick upside the head can do major damage.
Here is what it comes down to footwork. In every fighting style footwork is the most important aspect. My students have heard me say time and time again and you will too, without good footwork you can not get away from your attack or to your attacker. Footwork is the key to everything else working. So the higher your leg comes off the ground the more balance and mobility you will lose. I have a much better chance of landing a quick kick to my attackers knee that a spinning round kick to their head.
Another concept of a wing chun fighter is targeting. One of these targeting aspects is mobility. If they can't walk they can't fight or chase after you. So targeting low can be extremely effective and gets your foot back on the ground where you need it. The only reason I said can be effective is you can always miss.
When we do full contact sparring there is a rule in my school no kicking below the waste. Huh? I thought you said…?
It comes down to safety. Everyone has to go to work or school or do something the next day that involves walking. To name a few reasons we train full contact sparring is to judge range, distancing, speed, and to feel what it is like to hit and get hit not to get permanently injured. It also gives you a place to practice throwing higher level kicks in a safe environment to experiment with what you are capable of doing. If you can throw a solid front kick to the chest then delivering one to the leg will not be an issue.
I have students practicing attacking the legs enough in a safe training environment to avoid unnecessary injury.  It is just way to easy to blow out someones knee because you miss judged or they stepped in and that is why Wing Chun loves low kicks because if they are performed right they are dangerous.
Let me leave you with one last note. The best kick is the kick they did not see coming. It is all about timing.