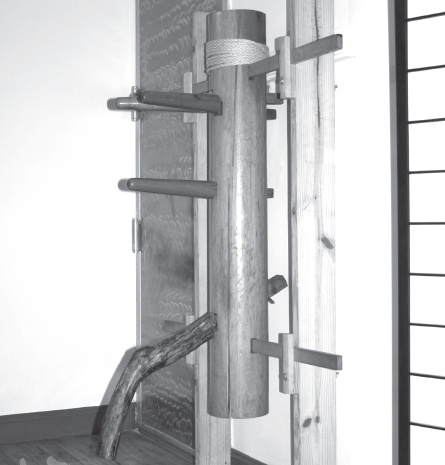 They're just made out of wood right? Why are these thing so expensive?
If you are not already aware, a well built Mook Jong (AKA Wooden Dummy or Wooden Man) with high quality wood can run from $900.00 up to $2000.00.  So yes, it is a very costly piece of equipment. A Wooden dummy is a training tool used by Wing Chun Kung Fu practitioners. You have probably already seen it martial arts movies with Jackie Chan, Donnie Yen or Bruce Lee's Dragon story. You can learn more about wooden dummies here, in this great article by Grandmaster Holder.
I have made them in the past and had a little company with one of my Kung Fu brothers in the early 90's, so I have some knowledge in the area. We made them old school and then one of our other Kung Fu brothers had a furniture factory and made them more professionally like a piece of furniture. The difference was ours were a solid log and his were three piece laminant. They were both incredible dummies.
So why are dummies so expensive…
Cost
High quality wood nowadays is not cheap and the body of the dummy is a big piece of wood. This wood is a main factor in the price. Clearly, a Teak one is going to cost more than one made out of Southern Pine.
Volume
When is the last time you heard someone outside of your kung fu class say, "hey I am going to buy a wooden dummy today." On Black Friday you do not see people running out of the stores with these things. So they are not a high volume item.
Time
If you have ever made a wooden man then you know there is a lot of time that goes into making one of these. You have to find the right piece of wood, let it dry out to cure, it is a process. Then getting the right measurements, angles, etc. on the body is a bit of science. Then… there are the arms and the leg each unique in their own way. Expert craftsmen spend numerous hours in making a quality product.
Overhead
If it is a small company making them then they have all the costs of any small business. The cost of a giant lathe to spin a piece of wood that size can't be cheap. If you are doing it old school you still need a little lathe if you want the arms right. If not, everything is very square and has a box like feeling.
So, with a low volume sales item, cost of quality wood, machinery and time the end result is an expensive piece of training equipment. I am not writing this to push any company, although I am thankful there are companies that make them.
If you want to try making your own Wing Chun Dummy then check out these FREE dummy plans.