Wing Chun Online Bootcamp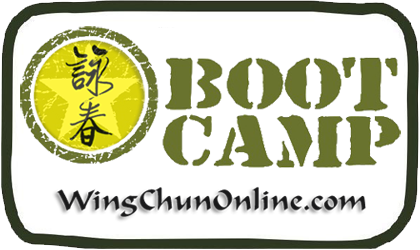 We are proud to announce our very first Wing Chun Online Bootcamp for WCO Members Only!
This is an amazing opportunity, to meet your Sifu and kung fu family, get hands on training and finely tune what you have learned!
Dates: January 18th and 19th 2014
Training Schedule:
Training Saturday Jan. 18th
9:00am – 12:00pm
1:30pm – 4:30pm
Training Sunday Jan. 19th
9:00am – 12:00pm
Location: Wing Chun Society and Wing Chun Online Headquarters New Rochelle, NY
Instruction: Sifu Wahnish
Bootcamp Fee: $55.00 (The normal discounted rate would be $297.00. Although, we understand you have transportation and lodging fees, thus we are only charging $50.00 as a commitment fee, to do our part to make it as affordable as possible.)
Wing Chun Online Bootcamp Topics
Perfecting the Sil Lum Tao
Wing Chun Hand Positions Review
Stances and Footwork
The Wing Chun Punch Detailed
Punching Drills
Wing Chun Kicks
Wing Chun Theory
Deflecting Straight Punches
Defending Hook Punches
Q&A Session
And more!!!
Lodging:
The school is 30 minutes from New York City, New Jersey and Connecticut.
Manhattan
The school is located two blocks away from the Metro North train station. Manhattan is a just a 30 minute trip away for those that want to stay or visit New York City.
New Rochelle
These two hotels are within walking distance to the school (2-3 blocks).
Marriott
Radisson
Food and Drink:
There are coffee shops and restaurants within walking distance, although on Saturday a complimentary lunch will be provided.
There is a limited number of participants for this event so don't wait!
Members can sign up in the WCO Members Training Hall