Wingchunonline.com
Wing Chun Contact Reflex Training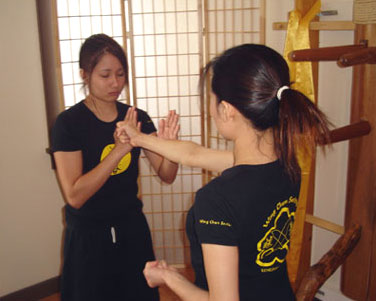 Most all of Wing Chun training consists of Contact Reflex training. Contact reflex training is fine tuning your ability to determine motion and movement through touch. Wing Chun practitioners relay on touch and feel more than vision. In multiple attacker situations it is of the utmost importance to relay on feel so you can control or disable one attacker while keeping your vision on incoming opponents. A great example of contact reflex training is the first Pak Sao exercise preformed with your eyes shut. By doing this you know when the next punch is coming because you feel your partner withdrawing the hand you have contact with. Here, picture this, someone throws a punch at you and you deflect the punch with a Pak Sao (palm deflection) using the parallel or same side arm. Now, not that you are going to do this in a fight, shut your eyes, when you feel the punching arm you have contact with withdrawal, you know can feel that the next attack is on its way. Through contact reflex training practice, you will be able to feel more each training session. You will soon see that once you have contact, you can fight blind without a problem!

Be like water making its way through cracks. Do not be assertive, but adjust to the object, and you shall find a way round or through it. If nothing within you stays rigid, outward things will disclose themselves.
Empty your mind, be formless. Shapeless, like water. If you put water into a cup, it becomes the cup. You put water into a bottle and it becomes the bottle. You put it in a teapot it becomes the teapot. Now, water can flow or it can crash. Be water my friend.
Jun Fan