Wingchunonline.com
Combat Martial Arts Training - Battle Sets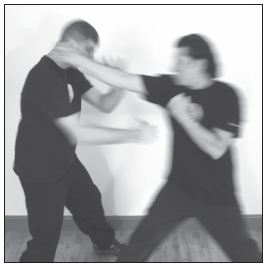 Battle or Combat Sets training is a close range random drill consisting of two practitioners. One will attack and the other will defend and annihilate. Your partner starts off by throwing a random attack and you defend and finish with controlled return fire.
Although Wing Chun techniques do not look fancy in a street fight, they work and that's what counts. Street attacks are almost always at close range. Wing Chun works best at close range. Your survival in a real street confrontation depends on the ability to fight in these close order situations. It is also important to understand how to redirect and deflect incoming force and to understand the principle of stepping off the line of force. In this way you do not have be larger or stronger than your opponent to overcome him. Some situations may require control of your attacker. In survival situations you will need to depose of your attacker quickly and effectively.
Random battle set training covers these important concepts as well as developing your flow of protective retaliation. Mouth pieces are recommended during these sessions.

The highest technique is to have no technique. My technique is a result of your technique; my movement is a result of your movement.

A good JKD man does not oppose force or give way completely. He is pliable as a spring; he is the complement and not the opposition to his opponent's strength. He has no technique; he makes his opponent's technique his technique. He has no design; he makes opportunity his design.

One should not respond to circumstance with artificial and "wooden" prearrangement. Your action should be like the immediacy of a shadow adapting to its moving object. Your task is simply to complete the other half of the oneness spontaneously. In combat, spontaneity rules; rote performance of technique perishes.
Jun Fan